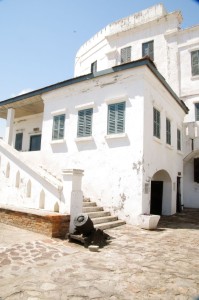 I visited two slave castles recently—Cape Coast and Elmina in Ghana.  I am rarely so aware of my skin color.  I'm conscious that white privilege is why I am even able to say that.  It is absolutely not fair, but it is my experience.  Certainly in Africa I have been more aware of my skin color than in the United States.  Here I have often been the only white person in a crowd.  I walk down the street and hear people shout "obruni," in Ghana, or "muzungu,"in Uganda, referencing my skin color.  Several tro tro conductors have said to me, "Obruni sit here" when they could have just as easily said, "you."  It's a small thing, but it shows how I am defined by my skin color in ways I am not in the United States.  It's not the first time I've experienced this kind of attention.  In China, there must be a thousand photos of me that were taken surreptitiously—and some hilariously blatantly—by strangers on the streets.  Here the attention rarely feels malicious.  Mostly it seems to be result of novelty and nothing more.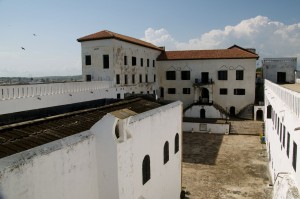 But, on tour at the slave castle, my whiteness felt on display.  As our tour guide explained the physiological and physical torture these men and women were subjected to, I felt the eyes of history on me.  I am white.  And the men who carried out these seditious atrocities—who were blind to the humanity in the people imprisoned in their castles—were white.  Though I'm likely not descended from these specific men—they were British and Dutch and to my knowledge I am not—our shared skin color is enough for the connection to be made.  But for me the connection is real.  Though I am not directly related to these men, I am directly descended from men who profited from their common enterprise.  
My great-grandfather—and his father and his father and his father—grew up in a plantation home in Louisiana—a plantation home built and operated on the backs of slaves.  I am a direct decedent of the man who built it.  I have visited this building, by the gracious invite of the current owners.  I walked through the impressive rooms and sat under the magnolia tree outside.  I envied the interior design of the guesthouse out back.  Then reminded myself that this guesthouse was the slave quarters.  I was standing in the home (if that word is even appropriate) of people my family owned.  I can't help but wonder if any of the people who lived in the slave quarters were ever quartered in the slave castles I now visit as a white tourist.
On the day I visited my ancestral home my whiteness was glaring.  On the day I visited the slave castles my whiteness was humbling—almost embarrassing.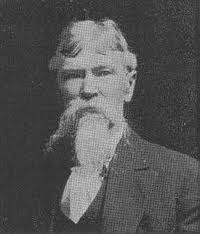 As I write this I feel compelled to note that my family recently discovered that one of the patriarchs of my family during the Civil War was quite possibly an abolitionist.  We know certainly that he supported the Union.  I feel the need to share this to lessen the blow—I am less guilty by association.  The fact of the matter is that, whatever this guy advocated politically, he was a slave owner.  Like Thomas Jefferson, who just never seemed to get around to "freeing" the "help" that he "owned."  Honestly, the fact of the matter is that it doesn't matter—at all.  My family prospered because of slavery.  And even if my great-great-great-grandfather was a closet abolitionist, his kids fought for the Confederacy—one died at Chancellorsville, and another allegedly threatened blacks with death if they voted Republican in the 1868 elections.  (My dad has his signed copy of The Clan—on which the epic racist classic film Birth of a Nation was based.) 
My family was able to afford good educations when even most whites could not.  My family has rarely been hungry or unjustly prosecuted.  (Well half my family—my other half is Jewish and came from Eastern Europe to the United States at the turn of the 20th century.  But that's another story entirely.)  I feel compelled to share the detail about my "abolitionist" ancestor because I want it to be included in my family history.  Putting it next to the fact of slavery in my family's past has the illusion of assuaging some guilt.  To the extent that both are facts, both should be remembered and neither should be forgotten or buried.  But this one fact does not forgive all the others.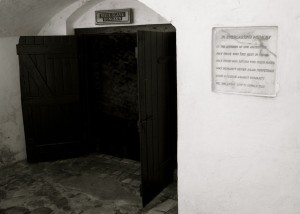 That day in Louisiana I was not overcome with sudden understanding of how utterly reprehensible slavery was.  I already knew that.  But I did finally understand how I, who was born about 120 years after slavery theoretically ended in the United States, still profited from the institution of slavery.  My family has had its struggles and its dips in fortune, but our baseline started at a higher level than most Americans, especially nonwhite Americans.  Because of slavery.
At the end of our slave castle tours, our guides asked us to remember that though the atrocities of those castles were committed by white people against black people, now is the time to move beyond such racial divisions.  Now is the time to remember we are all human.  Both guides implored us to find in the emotions that the tour stirred in us the commitment to combat the slavery that, though often less conspicuous, still exists all over the world today.  While I agree wholeheartedly with these calls to action, I cannot—we cannot—ignore the real racism that also remains.  Often in more subtle and ambiguous forms.  I start by acknowledging my white privilege that is oh so easy to forget.  Denying the existence and results of that privilege is too hazardous to carry into the future of the world.